Sports Physical Clinic 8/2/18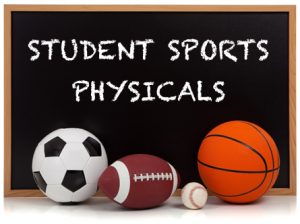 Sports Physical Clinics: The Sports Physical Clinic at Apple Hill (Suite 290) for 2019-20 student-athletes will be held on Tuesday, 6/11/19 and Wednesday, 7/31/19, 6-8pm. Appointments will again be scheduled through MyConferenceTime. Please check back as the scheduling window will open up during the spring sports season. The cost is $15 per physical. Payment can be cash, check (payable to YSSD), or money order. Bring along a PIAA CIPPE form.
---
WellSpan Urgent Orthopedics – Injury Center Location
WellSpan Urgent Orthopedics provides a convenient walk-in option for obtaining a PIAA pre-participation physical evaluation. Student athletes may walk-in to the WellSpan Urgent Orthopedics during working hours. Please be sure to bring a fully completed PIAA CIPPE form along with you. Payment is due at the time of the physical.  Wait times may vary based on patient volumes at the center. Once your physical is finished, please turn your completed packet in to the high school office.
(717) 812-4090
2319 S. George St
York, PA  17403
Hours:  Mon – Fri 8am to 8pm
  Sat – Sun 9am to 6pm
Cost: $15
Alternately, parents/students may use the following options:
Med Express
Route 30 – Across from LA Fitness
York, PA
717-845-2273
 Hours: 9am – 9pm Daily
Cost – $20
Family Physician
(if parent prefers)
Cost – Varies based on insurance
Patient First
2960 East Market Street
York, PA 17402-2414
717-751-2483
Hours: 8am – 10pm Everyday
Cost: $20 (ages 4-18)
**Information Subject to Change Without Notice**