High School Parent/Guardian Resources
 Educational Trips for Students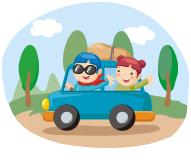 Students may be excused from school attendance for up to five (5) school days per year to participate in educational tours or trips when such trips are evaluated and approved by the school principal in advance.
The trip dates may be non-contiguous but cannot be taken with the first and last ten days of the school year, nor during standardized testing windows. Print this form  or pick one up at the school office.
Student Supplies
There is no master supply list for high school students.  Each teacher will let their students know their expectations on one of the first days that class meets.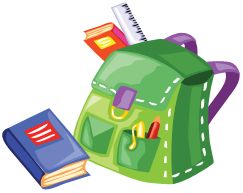 Dress Code Reminder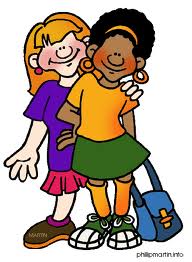 Students are expected to exercise good judgment in the selection of appropriate clothing throughout the school year.  *If clothing is deemed inappropriate, the student will be asked to change into acceptable attire.
Inappropriate attire includes but is not limited to the following:

Heavy winter jackets, hats, bandanas, hoods or other head coverings of any kind (except if worn for religious or health purposes) may not be worn or carried during instructional hours.

Clothing which exhibits double-meaning, suggestive slogans or words, advertisements of illegal products and inappropriate products for school, or profanity.

Gang apparel, colors, symbols, and identification items.

Shoulder-less blouses, shirts, and dresses or those with spaghetti straps (with shoulder straps less than two-inches (2") wide).

Leggings, tights, and yoga pants unless worn with a covering that extends to or below the bottom of the hip.

Displayed undergarments.

Exposed midriffs, buttocks, or cleavage.

Skirts and shorts that do not reach the mid-thigh.

Sunglasses.

See-through or sheer clothing.

Clothing with rips, holes, or tears above the lower thigh unless worn with leggings or another covering (high school).  Clothing with rips, holes, or tears above the knee (middle school).

Chains.
Thank you for your help in reinforcing the dress code expectations.
Student Handbook
For answers to questions you may have, please click on our Student Handbook and the Student Code of Conduct.
District-Wide Parent/Guardian Resources
District Forms & Publications
Absence Forms
Pre-Planned Educational Trip Form or Tour Request for Excused Absence From School Form (MUST be submitted AT LEAST 2 WEEKS prior to requested absence)
Absence Excuse Form - This is the "paper" excuse slip.
Online Absence Excuse Form are available on each building's Parent-Guardian Resources page.
Alternative Education For Disruptive Youth (AEDY) Local Complaint Resolution Process
AEDY Local Level Complaint Resolution Process Procedure
AEDY Local Level Complaint Form
Chromebook Information
Chromebook Guidelines and Agreement
Directrices Del Programa Chromebook
Unlawful Harassment (Board Policy #248)
The Board prohibits all forms of unlawful harassment of students and third parties by all district students and staff members, contracted individuals, vendors, volunteers and third parties in the schools. The Board encourages students and third parties who have been harassed to promptly report such incidents to the designated employees. The district compliance officer is:
Natalie Hasenfuss, Director of Pupil Personnel
York Suburban School District
1800 Hollywood Drive
York, PA 17403
717-885-1134
nhasenfuss@yssd.org
Read the Policy here:  Board Policy #248
Unlawful Harassment Complaint Form
Health Forms
Medication Form for Medication Administered by the Nurse's Office (Students are not permitted to carry prescription or OTC medicine except as permitted by Board Policy using the form below.)
Self-Administration of EpiPens and Inhalers
Sunscreen Regulations
Attention Parents:  With the sunny weather and outside activities approaching please note the following message to keep our students Sun Safe. We encourage the application of sunscreen at home in the morning before the school day when extended outdoor activities are scheduled. We also encourage and allow sun protective clothing including hats. The PA School Code was recently amended to include sun protection measures for students. It now allows for the use of a non-aerosol topical sunscreen product by students in school. The sunscreen must be FDA approved. The parent/guardian must submit two forms which can be found below. The first form is for the parent/guardian to submit allowing the student to use the topical sunscreen. The second form is for the student to submit stating that they are aware of the proper use and safety precautions of the product and will handle it appropriately. Please contact the school if you have any questions.
Parent/Guardian Sunscreen Form
---
Volunteer Information
The York Suburban School District welcomes those who wish to volunteer their time and talent to benefit the students of the district.  In order to volunteer, authorization must be granted by the appropriate district administrator.  In many cases, legislative acts require background checks and clearances before an individual can be approved to volunteer.
Resources and Information

Get the NEW Infinite Campus App!
Important Information for ALL Parents/Guardians
YSSD Approved Websites List for Parents
Online Safety - Talking with your Children
Education for Homeless Youth-BEC
Local Food Programs for Food Insecure Families
Transition Fair at York Learning Center