Coming Soon:
October 20 & November 9:  Last chance for Senior Photographs.   To be included in the Yearbook, seniors must take advantage of one of these two sitting dates.  Registration of 10/20 is currently open.   11/9 is now also available.
October 25:  This will be the last picture retake day for grades 9 - 11.  Picture order forms are located in the high school main office.
Absent From School?
Just click on the Absence Note below.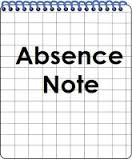 Quarantining? 
Check in via Infinite Campus
IC Attendance Check-In Instructions
Quarantine/Isolation Academic Planner
If you are worried about a fellow student or there is something you need the school to know immediately, please submit a tip:
Miscellaneous Information:
20-21 Graduation Photos
Lifetouch has opened the graduation photo portal.   You can access the individual pictures of graduates as they walked across the stage as well as many candid photos from the series of ceremonies.