York Suburban High School

YSHS Materials Collection & Distribution
Monday 6/15, Tuesday 6/16, and Wednesday 6/17 - 3:00-5:00 PM
Please see this document for more information regarding the process.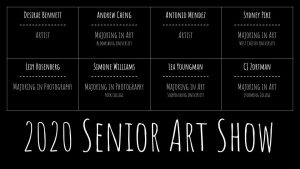 Check out the 2020 Senior Art Show!  We miss having all the great artwork grace our lobby, but we still enjoy having the chance to see the great work of our students!
Check out some of the great work our students are doing in our Forward Learning environment!
36th Annual Robert L. Dovey
Academic Awards Program
Monday, May 18 - 7:00 PM
Each May for the past 35 years, our York Suburban High School community has come together to recognize students who earned the highest grades during the current school year. Unfortunately this year, that meeting is not possible. However, it is still very important that we recognize our highest performing students even if we cannot have a ceremony to honor them.
This year's recipients are listed via this link:
2019-20 Academic Award Recognition
YSHS Awards Night
Thursday, May 14 - 7:00 PM
On May 14, we came together online to celebrate our seniors who have earned significant awards and scholarships this school year.  The program will remain available online for those who are unable to view it at 7:00 on Thursday evening.
Awards Program
Online Ceremony
List of Award Winners
Trojan Learning Center
Trojan Learning Center Schoology Page
Join Code: 3MSZX-6H3DF

The Trojan Learning Center (TLC) will be operating during our Forward Learning (Online Learning) period during normal school hours.  Please make use of it if you need support with a school activity!
The Library Media Center (LMC) will be operating virtually during our Forward Learning (Online Learning) to assist with research, writing, and connecting you with online books and resources.  Please check out the LMC Webpage for more information!
Forward Learning Schedule
Classes will meet daily according to the following schedule.  Teachers may schedule "synchronous" sessions that required attendance or they may schedule "asynchronous" activities the students can complete whenever they see fit.  The teachers will provide students directions regarding what is expected.
Period 1:     9:55-10:25
Period 2:    10:30-11:00
Period 3:    11:05-11:35
Period 4/5 & 5/6: 11:40-12:10
Lunch:       12:15-12:45
Period 6/7 & 7/8: 12:50-1:20
Period 9:    1:25-1:55
Period 10:   2:00-2:30
Teachers will be available from 2:30 to 3:15 each day for "office hours."  Students can email their teachers to set up time for consultation.
If you worried about a fellow student or there is something you need the school to know immediately, please submit a tip:. 
Miscellaneous Information: