York Suburban High School
Miscellaneous Information:
Absence Notes
can now be submitted online!!
Just click on the Absence Note below.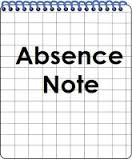 ATTENDANCE CHECK-IN PROCEDURE
While attendance is taken by teachers on the days that students are physically in the school building, students must electronically check-in to their classes in Infinite Campus on the 3 days (Blended) or 5 days (TOP online).
The check-in can be done quickly and it can be done for all classes at one time.   Students are encouraged to set a routine of checking in at the beginning of each day they are home and then proceed to their school work for the day.
FINDING ASSIGNMENTS & ACTIVITIES
If you are unsure of how to find information about what is happening in courses (i.e. what assignments, activities, and when are they due), please check out the Teacher Reference document.  It lists how teachers share information about their courses.
TROJAN LEARNING CENTER
Open: 8:00-3:00 M, T, Th, F
           7:30-11:30 W
TLC Help Zoom Link
For any questions or concerns, please contact Mrs. Loughran at aloughran@yssd.org.
If you are worried about a fellow student or there is something you need the school to know immediately, please submit a tip:
We are excited to announce that each of our students had artwork selected for the Finalists Exhibition. The following students entered and were each selected for the finalist exhibition:
Emily Bramble (Photo)
Alex Coy (Mixed Media)
Merelys De La Cruz (Photo)
Hannah Drahusz (Painting)
Olivia Gibson (Drawing)
Daisy Pflaum (Photo)
Ren Slagel (Painting)
Faith Stewart (Photo)
Sophia Swengel (Drawing)
The Finalist Exhibition will be open for viewing at Marketview Arts from 3/05 - 3/20.