Welcome to YSHS 2022-23!
We hope everyone had a great summer and is excited to get back to in-person learning this school year.  The following high school specific information complements an email that all parents should have received from the district outlining the process for checking demographic and health information in Infinite Campus.   If you did not receive the email, you can access the content of the message via this link.  
First Day(s) of School:
Freshman (Grade 9) will begin on Wednesday, August 24. Those students should arrive to the cafeteria by 7:45 AM.
All students should plan to be in their flex room at the high school by 7:50 AM on Thursday, August 25.  Please remember that our school day begins at 7:50.
Arriving to School:
Our bus riders are dropped off in the back of the high school near the cafeteria.  Students will enter through the back lobby.
Parents driving their students to school are asked to drop their students off in the front of the building so they enter through the front lobby.
On Thursday, August 25 and Friday, August 26 students will go directly to their flex room upon arriving.   Starting, Monday, August 29, students will go directly to their 1st Period classroom when they arrive.   Students will not congregate in the cafeteria or lobby as they did in prior years.  Students may stop by the cafeteria to pick up a grab and go breakfast if they would like.
Upcoming Events:
Open House (Freshmen, New Students, and Last Year's TOP Students) -

The high school will be open the evening of Monday, August 22 from 6:00 to 8:00 if you would like to visit the building and find your way around.  

School Pictures - Please also be aware that we have scheduled school pictures the first week of the year.  Students in 9th through 11th grade will have pictures taken on Friday morning, August 26.  For those seniors who did not have their portraits taken earlier this summer, senior pictures will be taken on August 29 - August 31 by appointment only.  Seniors can register for their portraits at https://prestigeportraits.com/ .
Back to School Night

- Please also mark your calendar for our Back to School on the evening of Thursday, September 15. The night is a great opportunity for you to meet your child's teachers and learn more about what they will be doing this year. More information will be provided in a few weeks.
Student Course Schedules:  Student schedules were released Thursday, August 11 via Infinite Campus.  Please plan to log on to review the schedule and contact your child's counselor if you have any questions regarding the schedule.   The counseling responsibilities are as follows:
Freshman Student Orientation (Link Crew):  All freshman students will receive a phone call from their Link Crew leader during the week of August 15. (Link Crew leaders are upperclassmen student volunteers who are committed to helping our freshman have a great first year of high school!)
Student Supplies:  There is no general "Supply List" for high school students.  Each teacher will provide his/her students with a list of the supplies needed for each particular class during the first day of that class.
Chromebooks: Last spring we collected our student Chromebooks to ensure help ensure they would be in good working condition when school began.  We will distribute the student Chromebooks on the first day of school.   If your child borrowed a device for the summer or never turned in their device at the end of last school year, please be sure that it is brought to school on Thursday, August 25.
What's New in 2022-23:  While the general ideas aren't new, we are going to prioritize being YS Engaged and YS Proud.  We are going to continually emphasize our expectations and the behaviors that lead to consistent student success.   They are referenced on posters you'll see in the hallways and in classrooms: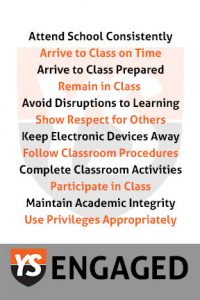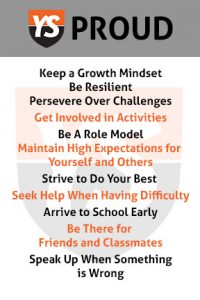 One significant point of emphasis this coming year will be appropriate phone use.  We recognize that phones have become essential for staying connected and can be very valuable tools, but we have also all learned how distracting they can be.  We want to help students understand how to use them as a tool, but also how to separate from them so they can fully engage with the task at hand.  Every text or notification interrupts a train of thought and all the available content can easily distract us.   As such we are going to be emphasizing no phone use in the classroom.  Students will be expected to have their devices away when they enter for a class.  If the phones or listening to music are appropriate for what is happening in the class, the teacher may give permission for their use.   Students will still be permitted to use them before and after school, at lunch, in study hall, and during passing periods, so they can stay connected.
Junior/Seniors (Armed Forces Notification) - The General Assembly of the Commonwealth of Pennsylvania passed into law House Bill No. 10, which requires the Superintendent of every public school district to make available, upon request, the names, addresses and phone numbers of junior and senior students to U.S. Armed Forces' recruiters.  If you do NOT wish to have your name and address released to the military recruiters this year, please provide a request in writing to the high school office by the last day of August.
Additional Optional Documents and Information
 "Year-Round" Parent/Guardian Resources - There is a wealth of additional information on our district and school website.   Please check out the " Resources for Parents/Guardians" page that can be found by selecting the Parent/Guardian Resources button in the upper left corner of each building's web page.
We are excited to start the new school year!  Please let us know if there is anything you need to help make the school year great for your child!