NO SCHOOL - MONDAY, JANUARY 21ST
in observation of Martin Luther King Jr. Day
 SPIKE'S LUNCH BUDDIES
Join your child for recess and lunch!  You must be school board approved for volunteering.  Please use the links below to sign up.
Remember to pack your lunch and bring it along!
RECESS/LUNCH SCHEDULE
GRADE 4                Recess – 11:35 am – 11:50 am
                                  Lunch – 11:50 am – 12:15 pm
GRADE 3                Recess – 11:50 am – 12:05 pm
                                  Lunch – 12:05 pm – 12:30 pm
GRADE 5                Recess – 12:10 pm – 12:25 pm
                                  Lunch – 12:25 pm – 12:50 pm
One School, One Book. Masterpiece by Elise Broach.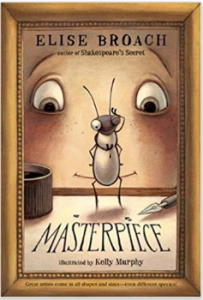 East York vs. Indian Rock Box Tops Contest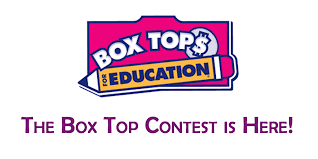 The school to bring in the most box tops will have lunch served by the other school's principal. Let's get Dr. Gulley to East York. You have until January 25th to get your box tops in!
YS 2019
Battle of the Buildings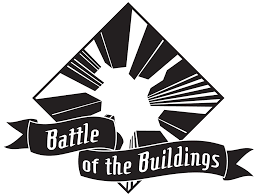 Come one, come all to a fun-filled family evening! It's time for the 8th Battle of the Buildings Competition. Come out to the YSHS gym next Saturday, January 26th from 6-8 pm to cheer on your school! Click 
HERE
 for more information and to order your tickets.
Junior Achievement Volunteers needed!

We currently have several Junior Achievement programs at East York Elementary, that are still in need of a volunteer.  Check out the details here.
W.O.W. WRITING
(Worthy of the World)
Check back from time to time to see the talented writers that made the W.O.W. Writing Wall!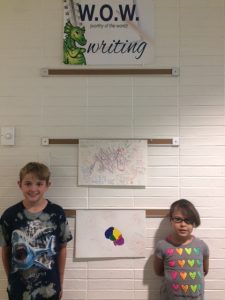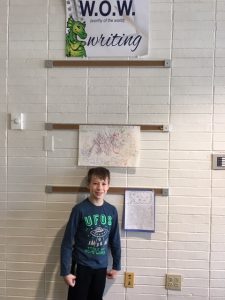 NEWS FROM THE EAST YORK ART ROOM
Congratulations to fifteen East York third grade students whose artwork was selected and will be displayed at the Charles Demuth Museum in Lancaster, PA during the month of December 2018.  Supported by the museum's "Art-in-a-Box" educational program, the museum generously provides space for several different school districts with artwork featured from kindergarten through senior high school.  Artwork may be viewed and enjoyed by the public and an opening exhibition will be given for all students, parents, and friends on Sunday afternoon, December 2, from 1-4pm at the museum. Everyone is welcome!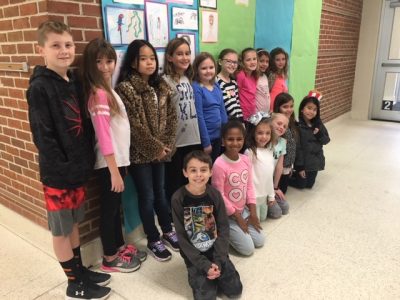 (Back row, left to right)  Tate Keffer, Julianna Ryan, Chelsea Dang, Eliana Eager, Autumn Evans, Zori Bair, Kadance Wert, Carmela Conzone-Peyton, Tegan Vogelsong, (front row) Jonathan Zermeno, Alesandra Delacruz, Jillian Robbins, Charlee Waltemyer, Mikela Meaden, and Savannah Nguyen.
YOGA FOR KIDS 
RETURNING TO EAST YORK ON MARCH 12, 2019.