Yorkshire Parent-Teacher Organization
Announcements
Come join us for a PTO meeting!  It's a great way to get involved with your child's education!
Meeting Dates:
New parents welcome!  Come learn how you can get involved in our school during the 2021-2022 school year!
Monday, August 9, 2021
Monday, September 13, 2021
Monday, October 4, 2021
Monday, November 8, 2021
Monday, January 10, 2021
Monday, February 7, 2021
Monday, March 14, 2021
Monday, April 11, 2021
Monday, May 9, 2021
Yorkshire Elementary PTO
As the school's parents' organization, Yorkshire PTO is very active and is an integral part of the school.  They have a membership drive and a fund raiser each year.  With a generous budget and many, many hours of volunteer time, the parents provide many services to the school.  Some of these programs include assemblies, SWPBS celebrations, visitation days, Teacher Appreciation, Yorkshire T-shirts for all students, and much more.
2021-2022 Officers:
President: Ryan Emerson
Vice President: Laura Harrell
Treasurer: Lisa Angelucci
Secretary: Megan Eckbold
Email: yespto295@gmail.com
In addition, there are several committees contributing to the Yorkshire PTO.  They are:
Arts Night Committee assists the art and music teachers in planning and organizing an evening in the spring for showcasing and sharing our students' talents in the arts with their families and the community.
Baking and Hospitality Comprised of volunteers willing to bake goods for various activities as needed.
Book Fairs Committee plans and organizes two book fairs throughout the school year.
Box Tops for Education Committee collects and bundles specially marked box tops for education labels found on General Mills, Betty Crocker, and other specially marked items and submits for redemption at designated times throughout the year.
Bus Parents Committee organizes parent volunteers to ride the school buses home with kindergarten students the first few days of school.
Bus Tags Committee creates and distributes bus tags to all students the first day of school.
Dance for Dollars Committee prepares mailings for dance for dollars.  Committee also prepares and plans for dance day.
Directory Committee will compile and publish directory of students' addresses and class assignments.
Family Ice Cream Social Committee plans and organizes the social in late spring.
First Grade Quilt Committee organizes and coordinates making of a quilt with the First Grade students to store for display/raffle during their senior year in High School.
Fundraising Committee supervises annual fundraiser by preparing orders and distributing goods at school.
Giant A+ Cards Committee recruits parents to complete Giant A+ form and then enters information into Giant A+ system.
Hospitality Committee will provide refreshments and setup at designated school functions such as Open House, Kindergarten Registration, etc.
Kindergarten Registration    Organize volunteers to greet new registrants, take T-shirt sizes, sell spirit wear, serve refreshments, and recruit volunteers.
100th Day Coordinates a school-wide community service project to coincide with the 100th Day.  Decorates the school for the 100th day.
Parent/Teacher Conferences Committee provides a lunch for the teachers that day.
Parent Visitation Committee provides reception services, setup, direction to classrooms, etc. during American Education Week in mid-November.
Programs Committee arranges school assemblies and special events as requested.
School Board Representative Attends the York Suburban School Board meetings and presents any concerns of the Yorkshire PTO to the School Board.
Senior Guest Day Committee provides reception services to visiting "guests" in the spring.
Showcases Committee plans and decorates the showcases in the school.
Sponsorship Committee mails letters home for Ready Teddy Sponsorship.  Also keeps record of Ready Teddy sponsorships.
Staff Appreciation Committee provides for staff recognition during National Teacher Appreciation Week in May.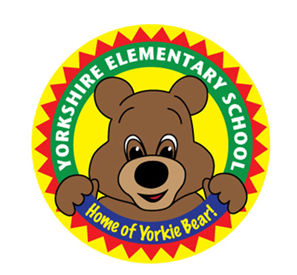 2021-2022 PTO Meeting Schedule
All meetings take place in the school's Art Room
6:30 p.m.
Monday, August 9th
Monday, September 13th
Monday, October 4th
Monday, November 8th
Monday, January 10th
Monday, February 7th
Monday, March 14th
Monday, April 11th
Monday, May 9th