If you have a concern of any nature, please report it:
YSHS Guidance Office
1800 Hollywood Drive
York, PA  17403
Department Head
  Mrs. K. Tina Howe
Administrative Assistant                        Mrs. LaDawn E. Huber
Guidance Office:
717-885-1272
Guidance Fax:
717-885-1273
Office Hours:
M-F 7:15 to 3:30 p.m.
College Tracker
Seniors - after applying to a college, click on your counselor's link below to request a transcript or letters of recommendation.
College and Career Planning with Naviance
York Suburban High School uses Naviance as an integrated College and Career Planning Tool for students, parents, and counselors.

Students are welcome to explore the features on their own at the link above.  Students can use their school username and password to access the site.
Miscellaneous Information:
Contact the High School Guidance Office
Counselor Assignment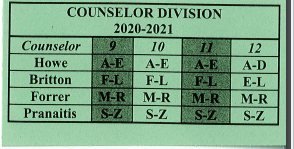 Every student is assigned to a counselor according to the first letter of their last name. The assigned counselor serves as the advocate for the student in many ways. To truly recognize their needs, counselors meet with individual students on a regular basis. A personal relationship develops that is nurtured through four years. If additional curricular assistance is needed, counselors can match peer tutors with students. On an individual basis, a counselor will work with students on everything from career exploration and post-secondary planning, to decision making and time management. Counselors review every college and scholarship application that is processed by the school. They prepare and administer a variety of tests and assessments for students, and help them to interpret the scores. The counselor also serves as the liaison between many departments for students with special needs.
The department boasts a student-to-counselor ratio of 218:1. Counselors work with individual students to gain opportunities in shadowing, internships, volunteer service, and employment. Some students will take advantage of our affiliations with a vocational high school, the PA Governor's Schools, and local colleges. Counselors work with students in identifying what programs are appropriate for their individual needs and the steps to gaining placement in the programs. All of these programs are used to enhance the four year experience of the student while better preparing them for the demands of life beyond high school.